Energy Unlimited (1986)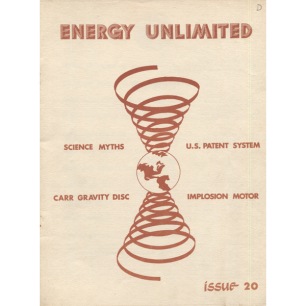 Price:
$35
Inc. 0% Tax
Type:
Good
Quantity:
In Stock
Magazine on new energy ideas, patents, engines and such technical stuff. Only two single copies of the same issue available for the moment.

Includes articles by Irving Kayton, the Searl consortium, Bernhard Vaegs, George van Tassel, Long John Nebel & Otis T. Carr, George Hathaway, and also articles and comments by the editors Walter Baumgartner & Rhetta Jacobson.

8½x11 size, 52 pages.