Layne, Meade: Retro me, or psychic self-defence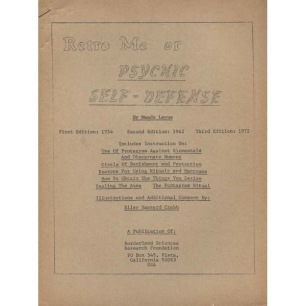 Price:
$25
Inc. 0% Tax
Type:
Good
Quantity:
In Stock
Includes instruction on: - Use of pentagram against elementals and discarnate humans - Circle of banishment and protection - Reasons for using rituals and mantrams - How to obtain the things you desire - Sealing the aura - The pentagram ritual.
Illustrations and additional comment by Riley Hansard Crabb.

Third Edition: 1972, Borderland Sciences Research Foundation, Vista, California
Duplicated document, stapled 8½ 11, 17 pages, ill.