Brooke, Anthony: Are these the signs?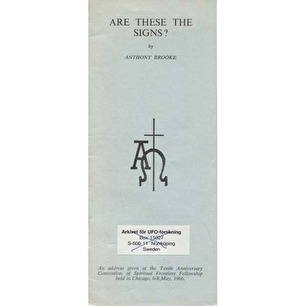 Price:
$6
Inc. 0% Tax
SKU:
P1579941
Type:
Good
Please select a variant above
Out of Stock
Small pamplet, 23 pages.
An address given at the Tenth Anniversary Convention at Spiritual Frontiers Fellowship, held in Chicago, 6-8 May, 1966.
Anthony Brooke was a prominent man in the contactee cult "Universal Link".