Crabb, Riley H.: The reality of the cavern world.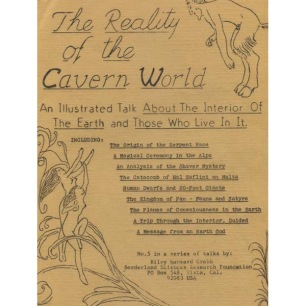 Price:
$40
Inc. 0% Tax
Type:
Good/very good
Out of Stock
An illustrated talk about the interior of the Earth and those who live in it. The fifth lecture in a series before Understanding Unit #4 in Vista, California, December 10, 1960.
1960 (?), Borderland Sciences Research Foundation, Vista, California.

Stapled 8½x11, 33 pages, illustrated.