Crabb, Riley H.: Who flys the saucers?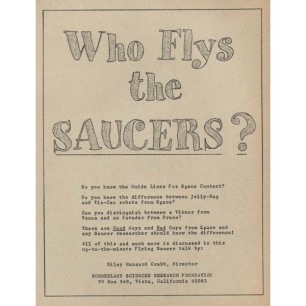 Price:
$45
Inc. 0% Tax
SKU:
P1813511
Type:
Good (no staples, but complete)
Please select a variant above
Out of Stock
Adapted from a talk given to the San Bernandino, California unit of Understanding, Aug. 27, 1967.

1960s, Borderland Science Research Foundation, Vista, California.

Unstapled (but complete), 8½x11, 47 pages.