Gränsöverskridaren: Nyhetsbrev för Nätverket för gränsöverskridande Vetenskap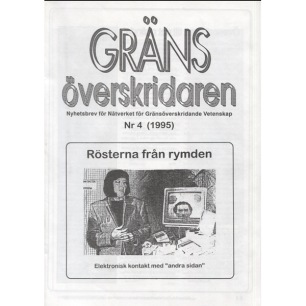 Price:
$0
Inc. 0% Tax
Type:
1995, Nr 4
Quantity:
In Stock
1995, Gränsöverskridande Vetenskap (Stiftelsen Aricia) Bromma. 24 pages

AFU has found quite a heap of copies of this magazine in one of our incoming collections so we are offering one FREE copy to each customer who purchases something else from us. This issue is almost exclusively about the Friedrich Jürgenson case, the Swede who claimed he tape recorded voices speaking from "the other side". Text is 100 % in Swedish.