Mutual UFO Network (MUFON): 1980 UFO symposium proceedings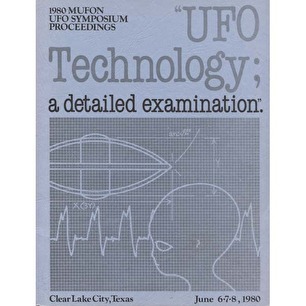 List Price:
$30
Price:
$25
Inc. 0% Tax
You Save:
$5 (17%)
Type:
Good
Out of Stock
11th Annual MUFON UFO Symposium, Clear Lake City, Texas, June 6-8, 1980.
Editors: Andrus, Walter H. Jr and Stacy, Dennis W.
Symposium theme: UFO technology: a detailed examination.
Contributions by John F. Schuessler, Fred Merritt, R. Leo Sprinkle, Henry C. Montieth, Thomas E. Bearden, James E. Oberg, Richard C. Niemtzow, Stanton T. Friedman and Ray Stanford.
1980, MUFON, Seguin, Texas
Softcover, 21 x 27 cm, 177 pages, ill.