Millard, Lindy: A unified field theory on the basis of the ether-vortex concept.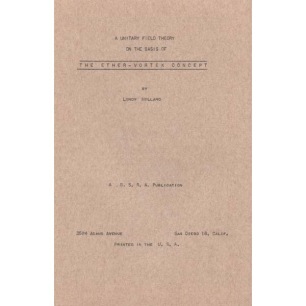 Price:
$25
Inc. 0% Tax
SKU:
P1813399
Type:
Good/very good (rusty staples you can replace)
Quantity:
In Stock
Early 1950s, Borderland Sciences Research Association, San Diego, California.
Lindy Millard was an associate of BSRA. https://borderlandsciences.org/journal/vol/56-8/v57-1/Millard_on_Etheric_Technology.html

Stapled booklet, 7x10 inches, 15 pages.

Comes from the BSRA-BSRF collection directly from California.