UPIAR Research in Progress. Vol. II, n. 1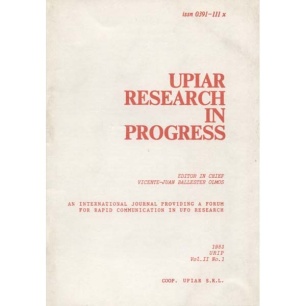 Price:
$8
Inc. 0% Tax
Type:
Good
Quantity:
Please select a variant above
In Stock
Editor: Vicente-Juan Ballester Olmos
1983, Cooperativa Studi e Iniziative UPIAR, Milano
Booklet, A5, 80 pages, ill., bibl.

Contributions by Donald A Johnson, Ezio Bernadini, Hilary Evans, Louis Winkler, the ditor and others.