Nostradamus, Michel: Les Propheties de M. Michel Nostradamus (Sc) *FREE*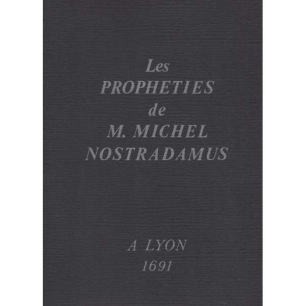 Price:
$0
Inc. 0% Tax
SKU:
P2161317
Type:
New
Quantity:
In Stock
1986, Edition G Wenderholm AB, Lyon
Softcover, A4-size, 74 pages. Illustrated. Reprint " A Lyon, Chez Antoine Besson, Libraire rue Tüpin. 1691. Avec Permission."

Special gift to customers all over the world. We have some copies which are offered (one per customer) to customers who order for more than USD 20 in one order.